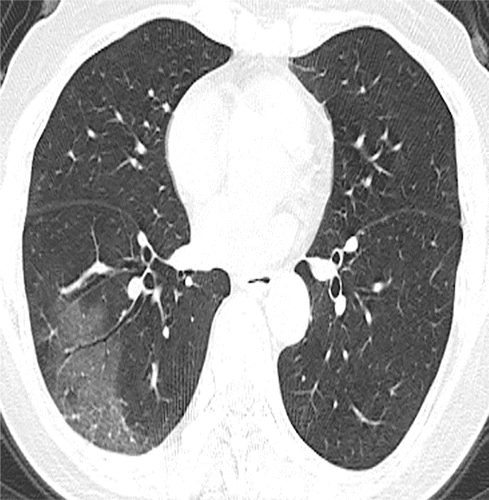 Coronavirus disease 2019 (COVID-19) (previously known as novel coronavirus [2019-nCoV]), first reported in China, has now been declared a global health emergency by the World Health Organization. As confirmed cases are being reported in several countries from all over the world, it becomes important for all radiologists to be aware of the imaging spectrum of the disease and contribute to effective surveillance and response measures.
Infectious Agent
Coronaviruses are named for their crownlike appearance due to surface spikes and are categorized into four major groups (alpha, beta, gamma, and delta). Most coronaviruses affect animals, although they are zoonotic and can be transmitted between animals and humans. To date, seven types of human coronaviruses are known. These typically lead to a mild illness, but in the last 2 decades, two human coronaviruses have been known to cause severe respiratory illnesses and even death. These viruses included severe acute respiratory syndrome coronavirus (SARS-CoV) that was first recognized in China in 2002 (transmitted from civet cats) and the Middle East respiratory syndrome coronavirus (MERS-CoV) which was first reported in 2012 in Saudi Arabia (transmitted from dromedary camels). COVID-19 is the latest addition to this group and has been reported to affect patients who worked at or lived around the local Huanan seafood wholesale market; where live animals on sale indicate possible animal-to-human transmission (2). More recently, cases have been confirmed with no exposure to animal markets, indicating person-to-person spread of virus.
Clinical Course and Management
The most common clinical manifestations include fever (83%), cough (82%), and shortness of breath (31%). The combination of clinical findings and epidemiologic risk factors that fulfill Centers for Disease Control and Prevention criteria for a person under investigation are provided in the Table (2). These cases need to be notified to the institutional infection control as well as local or state health authorities.
For laboratory confirmed cases, no specific treatment is available, and care is primarily supportive with appropriate precautions to stop person-to-person transmission. The severity of disease can range from asymptomatic and mild cases to acute respiratory distress syndrome and death.
Imaging Findings
Reports on imaging findings are now emerging. The largest case series of chest imaging in 21 patients described multilobar involvement and rounded as well as peripheral airspace opacities. The opacities most commonly were described to have ground glass (57%) and mixed attenuation (29%), similar to our presented cases. Given the predominance of ground-glass opacities, chest CT is more sensitive, and findings can be missed on radiographs. Notably, confirmed cases can have normal chest CT as well. Imaging findings share several similarities with previously described findings in SARS-CoV and MERS-CoV In our case series, we noted an organizing pattern characterized by peripheral predominant distribution and reversed halo or atoll sign in some cases. Additionally, one of our cases also developed a small focus of cavitation, which has not been previously described; although one of the 99 patients in the study by Chen et al had a pneumothorax . As larger case series become available, new imaging patterns may emerge.
In conclusion, imaging findings can be nonspecific for a particular infection, but in the context of a travel history or exposure, the presence of nodular and peripheral ground-glass opacities should alert the radiologists to this possibility.
Reference & Source information: https://pubs.rsna.org/
Read More on: